Our YOGA Holiday Schedule
We rarely close because we believe in #yogaeverydamnday however during this time of the year we make a few exceptions. Refer to our Holiday Schedule which is slightly modified & abbreviated to accommodate our YOGA community!
WE are OPEN on Thanksgiving DAY!!  (Thursday, November 22nd)
6:15am  26.2  HOT Yoga Series-
9:00am 26.2  HOT Yoga Series-
12:00pm  Warm Vinyasa Flow-
5:45pm & 7:30pm *NO CLASS
NO CLASS on Christmas Eve Monday, December 24th
NO CLASS on Christmas Day Tuesday, December 25th
NO CLASS  at 6:15am Wednesday, December 26th - CLASSES ONLY AT
12noon & 5:45pm 
January 1, 2019 *Special Class*
Ill (YOU) Minate Day 1 2019
2pm - 5pm
Stay tuned for details & how to purchase tickets
Give the Gift of Yoga this Holiday Season!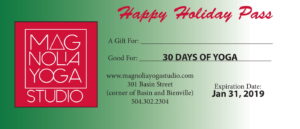 Yoga is a gift that is meant to be shared! Give your loved one or colleague the gift of life today. Gift certificates are now available for purchase.
Here is a list of the PERFECT Candidates for this gift:
Needs to Sweat out 2018
Has never left a workout without Instagramming it!
Couldn't get tickets to the DRAKE Concert
Needs to stop sending your Meme Accounts
Has plans to hit the BEACH in 2019!
Is always COLD & Fussy!
Give your loved one a gift of $30 for 30 days of yoga
Cleanse-Giving Yoga Challenge!
Join us as we strategically & passionately end the year with Health, Sanity, Energy, &Peace of Mind.
2 major components to the Challenge
1. Come to Yoga as much as possible during NOVEMBER sign up w/ your name on our big Studio Tracking Chart every time you come add a cute bling sticker to chronicle your progress!
2. Follow each week's theme. We are going deep with this CLEANSE. 1st week CLEANSE your THINGS 2nd week CLEANSE your BODY 3rd week CLEANSE your MIND 4th week CLEANSE your WORDS!
FREE to join all you need are classes & if you are NEW we created a great price point for you to join!
Cleanse-Giving Yoga Challenge $30 for 30 Days
Sign up online - We're going DIGITAL!
We are going completely digital and no longer using cash!
In order to reduce our carbon footprint and to make our front desk more efficient it is required to sign in using our app. Go to the app store & search "Magnolia Yoga" - sign in using your name - book the class you'd like to attend.