Hey Magnolia FAM,
We are excited to expand our class sizes & class offerings. All thanks to your patience and cooperation. We hope to continue opening more, slowly and steadily. Please read this newsletter for more information.
Ajax and the Magnolia TEAM
All classes now have 12 spots and NO waitlist!

If you have been fully vaccinated against COVID-19, please send a picture of your card to yogavaccinationproject@gmail.com. 

Students who submit their vaccination card and whose info has been updated in our system can now practice without a mask.

Unvaccinated students are welcome to practice; please continue wearing a mask in class.

We require everyone to enter the studio with a mask.

Please try to bring your own water, mat, and towels.

Rentals now available!

 Mat/Water: $1 – Towel: $2. Payments via Venmo (ajaxtheyogi16@gmail.com).
$16 Late cancel/no show fee: In-Studio classes must be canceled at least 2 hours before they start. Early Bird Yoga classes must be canceled by 8:00 PM on the evening prior.

Each student now receives 3 early cancels a month.

After 3 early cancels, you'll be charged $16 per cancellation.

Please contact us at hello@magnoliayogastudio.com if you wish to cancel your auto-debit membership.

Keep in mind that cancelling your contract before it is meant to end will incur a $99 fee.

No refunds, sharing, or returns on packages and single-classes.
*NEW* Class Times! (June-August) --marked with an *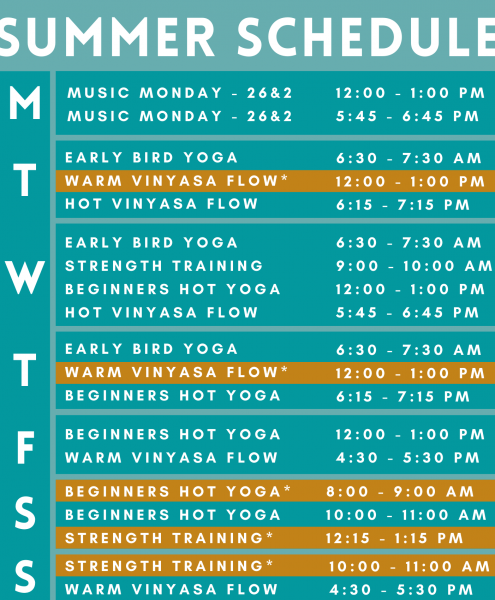 *NEW* Summer Promo: Good for new students & those who haven't practiced in over 6 months. Click the image to purchase!